Biography of Rohit Sharma [ रोहित शर्मा की जीवनी ] :-
 Rohit Sharma is a known star of the cricket world. Almost everyone is fond of watching cricket. And the majority of lads are cricket enthusiasts, thus it is impossible for those individuals to not be familiar with Rohit Sharma. Rohit Sharma is a well-known cricketer in the cricket world. Who has made a good identity for himself in a very short time, and then let us now see the biography of Rohit Sharma.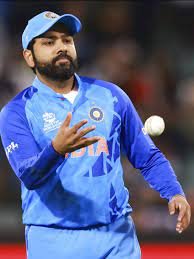 From the biography of Rohit Sharma – Introduction about Rohit Sharma:-
Rohit Sharma is a great cricketer. Whose full name is Rohit Gurunath Sharma. He also goes by the name Hit Man. Rohit Sharma was born on 30 April 1987 in Nagpur Maharashtra. As per 2023, Rohit Sharma's age is 36 years. He plays IPL from Mumbai Indians side. And Now he is the captain of India team and he is the captain of Mumbai Indians.
Rohit Sharma family:-
When reading Rohit Sharma's biography, the first thing we learn about is his family. He holds Indian nationality and belongs to Hindu religion.
His family consists of his father and his mother, his brother and his wife, and a daughter.
 Rohit Sharma's father's name is Gurunath Sharma.
 His mother's name is Purnima Sharma.
 His brother's name is Vishal Sharma.
Wife's name is Ritika Sajdeh.
 Daughter's name is Samaira Sharma.
Rohit Sharma Education:-
Rohit Sharma did his schooling from Swami Vivekananda International School. And then also did junior college from Our Lady Velankanni High School, Mumbai.
Biography of Rohit Sharma's Cricket Career:-
Whenever we look at the biography of Rohit Sharma, the most important thing we talk about is his cricket career. Basically Rohit Sharma is a right-handed batsman, and he started his cricket career as a right-arm off break bowler. And He made his international debut for India in 2007 and has since become one of the most accomplished batsmen in the world. He is batting impressed many coaches, resulting in his selection for West Zone against Central Zone in the 2005 Deodhar Trophy. But could not do anything special in that match, and after that he scored an unbeaten 142 against North Zone. Or In 2006, he was selected for India A for the match against New Zealand due to consistent good play. And then in the same year he also got a chance to play in Ranji Trophy. 
 ODI Match:-
Rohit Sharma has scored over 10,000 runs in ODIs and is the only batsman to score three double centuries in ODI cricket. And Rohit also scored a century in 2015 while playing with South Africa in T20. In this way, he became the second batsman to score a century in every format of cricket.
 T-20:-
While representing South Africa in T20 in 2015,and then the Rohit recorded a century. In this way, he became the second batsman to score a century in every format of cricket. And then a fantastic 50 was achieved by Rohit in the T20 encounter against South Africa in September 2007, and the team was also victorious thanks to outstanding fielding. In addition , the Indian team was given the chance to play in the semi-finals as a result of his performance.
 Ranji:-
He scored a triple century in Ranji Trophy in 2009. And then ,due to his consistent performance, he was made the captain of the Mumbai Ranji team in 2014.
 IPL:- 
Rohit Sharma plays for the Mumbai Indians side in IPL and his jersey number is 45. And then, this is also the caption of Mumbai Indians right now.
Rohit Sharma's Love life:-
Rohit Sharma's girlfriend is Ritika Sajdeh, who is the daughter of her father's business mind. And Rohit Sharma and Ritika dated each other for about 6 years. They later exchanged vows on December 13, 2015. And then at their wedding, which was held at Mumbai's Taj Hotel, the Big Bollywood stars were also in attendance.
 Rohit Sharma's Awards:-
Rohit Sharma also received the Arjuna Award in 2015 by the Government of India. ESPN named Rohit Sharma's two ODI double centuries as the finest ODI batting performance of 2013 and 2014. And Rohit Sharma won the award for 2015's best T20 batting performance for his century in his first T20 match against South Africa.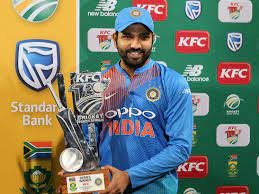 Other Hobbies of Rohit Sharma:-
Rohit Sharma loves to travel, watch movies, play table tennis and play video games. And In addition , He has frequently been seen stumbling across his family in various places.
Visits:208