Rise in Enrollment of Students
With the increase in the quality of education and infrastructure facilities in the government schools, there has been a constant surge in the students enrolling for these schools. According to the Annual Status of Education Report (ASER) 2021, there has been a major shift of students from private to government schools. The student enrolment in the state government schools for standard 1 to 12 in the past 2 years has elevated by approximately 10 lacs. This drift has occurred majorly because of state-wide inclination of private school students, mostly from rural and poor urban areas, shifting to government schools.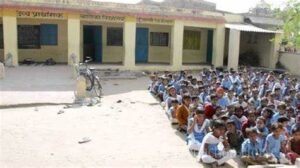 The major cause of this upward trend has been lately because of the rise in the quality of education and infrastructure facilities provided by the government schools of the state. The most popular is the Mahatma Gandhi English Medium Government School, which has become the first choice of not only the students but also the parents of Rajasthan. With the motive of providing qualitative and affordable education to the children of the state, State Government started these schools on the 150th Birth Anniversary of Mahatma Gandhi. At present there are 1 lac students studying across 348 Mahatma Gandhi Schools and very soon pre-primary classes would also commence in these schools. City Udaipur recorded the highest surge in the enrolment of students, followed by Alwar and Bhilwara.
Other factors like, weekly homework given by government teachers, frequent visit by the teachers and mid-day meals also led to the paradigm shift. In continuation to this, the state received 1+ category in the Performance Grading Index in a recent nationwide survey.
From achieving the status at par with the private schools to gaining confidence in the choice of school preferred by the students as well as parents, the government schools are seeing a whopping rise in the enrolment of the students across the state.
Visits:134