10 grams of gold again beyond 58 thousand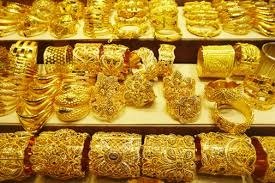 Gold prices saw a rise today i.e. on Thursday as well. Due to this, gold has crossed 58 thousand. 
According to the India Bullion and Jewelers Association (IBJA), on March 16, gold became costlier
by Rs 213 to reach Rs 58,115 per 10 grams. Anuj Gupta, Vice President, IIFL Securities, says that
gold is getting support due to the ongoing ups and downs in the stock market. Due to this, by the 
end of this year, gold can go up to 65 thousand rupees per 10 grams.

Today gold price by carat-

Carat    Price (Rs/10g)
 24          58,115
 23          57,882
 22          53,233
 18          43,586

Decline in silver-
 If we talk about silver of 999 purity, then there has been a decline in its price today. Today silver
 has become cheaper by Rs 361 to Rs 66,500 per kg. A day earlier i.e. on March 15, it had reached
 66,861 thousand.

Sleeping close to its all-time high-
After today's gain, gold has reached close to its all-time high. Gold was at its all-time high on February
2 last month. According to the website of the India Bullion and Jewelers Association (IBJA), then gold had
reached Rs 58,882 per 10 grams.
Only six digit hallmarking gold will be sold from April 1-
Under the new rule, gold will not be sold without six-digit alphanumeric hallmarking from April 1. Just like
 the Aadhaar card has a 12 digit code, similarly gold will have a 6 digit hallmark code. This is called 
Hallmark Unique Identification Number ie HUID.

This number can be alphanumeric i.e. something like this- AZ4524. Through this number it will be possible to 
find out how many carats a gold is. 940 centers have been set up to give trade mark on gold across the country. 
Now the four digit hallmarking will be completely stopped.