Biography of Sachin Tendulkar (सचिन तेंदुलकर की जीवनी)
Biography of Sachin Tendulkar (सचिन तेंदुलकर की जीवनी)
Biography of Sachin Tendulkar:- Sachin is the king of cricket and a famous player. He has a big identity in the cricket world. Sachin is the former captain of the International Cricket Team. Accordingly, He bats right-handed and is known as the god of cricket for scoring the most runs in the sport. Sachin also has kept his immortal name in the world of cricket with his ability and skill. After that, He has been honored with several awards by the Government of India. So let us now know about the Biography of Sachin Tendulkar.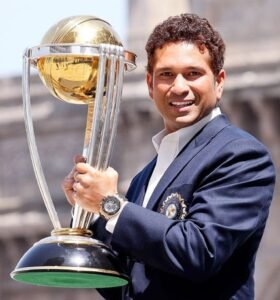 Introduction to Sachin:
Sachin's full name is Sachin Ramesh Tendulkar. He is also referred to as Little Master, Master Blaster, and the God of Cricket. Basically, He belongs to the Hindu religion and Brahmin community.
Family of Sachin Ramesh Tendulkar:

Whenever we see about the biography of Sachin Tendulkar, first of all, we see about his family. His father's name is Ramesh Tendulkar ( Marathi novelist), who is a Marathi novelist. And Sachin's mother's name is Rajni Tendulkar, who also works for an insurance company. He has three brothers and one sister. Sachin is the youngest. All three of his siblings were the children of his father's first wife. Sachin is the only son of his mother. Sachin's brother's name is Nitin Tendulkar.  sister's name is Savita Tendulkar and their wife's name is Anjali Tendulkar, his son's name is Arjun Tendulkar, and his daughter's name is Sara Tendulkar.
Education of Sachin Tendulkar:
Sachin Ramesh Tendulkar did not like his studies since childhood; he only liked to play cricket. He did his schooling from Indian Education Site New English School Bandra (East) Mumbai to Sharad Ashram Vidyamandir School, Dadar, Mumbai. He continued his college studies at Khalsa College in Mumbai, but he interrupted them to begin playing cricket.
Birth of Sachin Tendulkar:
Sachin Ramesh Tendulkar was born on April 24, 1973, in Mumbai, Maharashtra.
Sachin's arrival in cricket:-

Whenever we look at the biography of Sachin Tendulkar, the most important thing we talk about is his cricket career. Sachin says that cricket is his first love. He enjoys cricket a lot, and it gives him new energy. Since he was young, Sachin has loved cricket. His interest in academics has never been strong, and he used to spend the entire day playing cricket with his neighbors. Sachin used to play cricket with a tennis ball in his childhood. His older brother Ajit Tendulkar encouraged him after observing his passion for the game, spoke with his father, and helped him secure admission to the cricket academy. Then Sachin was only 12 years old, and since then he has started playing cricket.
Sachin Tendulkar's wife:
Sachin is a great man. Anjali, who is now his wife, was the sole girl in his life. Sachin is a little shy by nature, so he never talked much about his love story in front of the media.
Sachin Tendulkar's wife:
Sachin's wife's name is Anjali Tendulkar. who is a pediatrician and the daughter of famous industrialist Ashok Metha. Its initial gathering took place at the Mumbai airport. Then they met at a friend's house who knew both of them and from then on they started talking. They decided to be married after five years of dating. They exchanged vows on May 24, 1995. After 2 years of marriage, on October 12, 1997, a daughter was born to them, whose name is Sara Tendulkar.
Visits:316